Our furniture for the dining room was delivered yesterday. I'm so excited to see this room start to come together. I had a hard time trying to narrow down the vision for this room, and I think it will be great when we finish. Instead of choosing furniture that was overly formal, we're going for a French country elegance feel for the room. I think this fits our lifestyle and will mesh well with the rest of the house.
So, here are some pictures of our new furniture in the room. The curtains, wall color, wainscoting and wall decor will all be changed in the near future. ;) What's there now is what I put up after we moved in so it wouldn't feel so empty! Plus, these pictures were taken when it was dark, so the lighting is a little bit off.
These pictures were of the table without the leaf in it. With the leaf in, we can easily seat 8, which will be great! We got 6 side chairs for the table so that we can get two upholstered chairs for the ends. I'm currently searching to find the best chair for the job. Here are some of my favorites:
Ballard Designs, Gentry Chair:
Natural Linen w/Black Finish
Ballard Designs, Gramercy Chair:
Microfiber Natural w/ Black Finish
Home Decorators, Tufted-Back
Dining Chair in Protege Haze
Home Decorators, Becca Nailhead
Chair in Tufted Natural Linen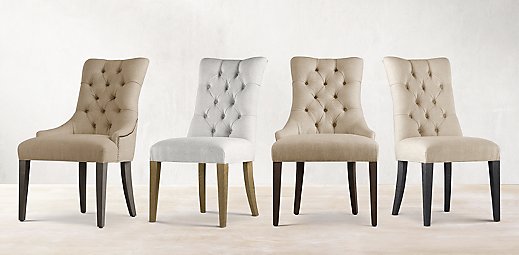 Restoration Hardware: Martine Arm Chair
Before we paint the walls and pick out the specific greige we want, I want to have our curtains picked out. I think a patterned fabric would be pretty. Here are some of the fabrics that I'm liking right now. I'm ordering some swatches so I can see what I like the best. I want this room to be mostly neutral (so we can decorate according to the season) but also subtly bring in some of the colors from elsewhere downstairs.
So, we'll see what happens. I need to go look at fabric in person and hopefully I'll have an easier time finding what I want.
That's what's been happening in our dining room over the last couple of days. I can't wait for it to be done (hopefully in time for the holidays!) so we can enjoy it!